Looking for a new pair of headphones for running or working out? Check out the Mpow Elk Bluetooth Headphones! They are very light, sound great, and are extremely comfortable. Currently ~$22 on Amazon – http://amzn.to/2dofpuB(Paid Link)
Look: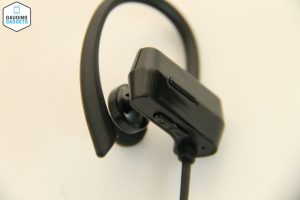 I really like the look of these headphones. They feature a large "antler" like ear hook. The earpiece itself is actually pretty small. One side has a large, great looking MPOW logo. Both of the earpieces are coated with a shiny plastic that is flashy and eye catching. The black cord connecting the two earpieces is thin and light. It seems to be covered with a dull black rubber that offers a little bit of protection as well as making it more conformable on your skin.
Feel: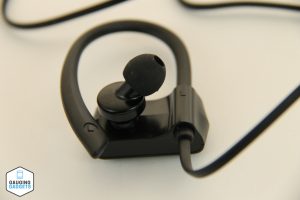 Wearing these Mpow headphones(Paid Link) is surprisingly comfortable. Even to the point that I for got I was wearing them. I like to use headphones of this type for running and for working meetings when I am working from home. I like my headphones to be secure in my ears and comfortable for several hours of use. I found that the Mpow Elk headphones did a great job of satisfying these needs. The headphones come with three different sizes of earpieces, I found that the small size was perfect for comfort as well as slight noise canceling.
Controls: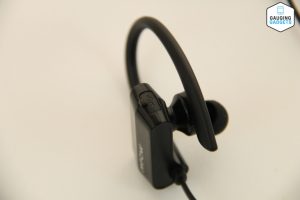 There are 4 buttons on the Mpow Elk Headphones. One button on the side of the right earpiece that controls the power/pairing, stop/play, and hands free calling. I found this button to be large enough to easily find and press, however I did not like the location. I found it a little uncomfortable to be pressing this button because it meant I was pressing the earpiece deeper into my ear. The other buttons are on the bottom of the right earpiece and control the volume and change the track. These while being very easy to use and find with your finger gave off a weird tactile feeling in your ear every time you press them. Nothing too bad but it is a little annoying. Really to sum it up, the buttons are easy to use and I like that they are on the earpieces rather than located on the cord.
Sound Quality:
When thinking about the sound quality of these it is important to remember the price and potential uses. I think these headphones sound great. They lack a little bit of bass but for the size, price, and weight they sounds amazing. They are perfect for running or using in the gym. They offer noise canceling so you can just zone in and focus on your workout or run. I found that I really enjoyed the way they sound.
These headphones(Paid Link) are a great price, great size/weight, and they have great sound. I highly recommend them.