Sound bars can be a great way to make your TV or Movie watching experience more enjoyable. They are more convenient than most home theater surround sound systems and usually fit perfectly under your television. In this video we check out the new TaoTronics TT-SK15 Sound Bar! Product Link on Amazon – http://amzn.to/2dE0lnA(Paid Link)
Video Review:
Look and size:
The size of the TaoTronics Sound Bar is 34 inches long, and ~3 inches wide. It fits perfectly under my 42 inch Samsung TV. I really like the look of this sound bar. Most of the speaker is covered with a black speaker grille cloth. The grey metal touch sensitive control and feedback area really brings the look together and makes the sound bar stand out. The lights change color and look cool when changing the volume or turning the sound bar on. The sides of the TaoTronics sound bar are black plastic with a glossy finish. I have been extremely happy with how well this matches the look of my Samsung TV..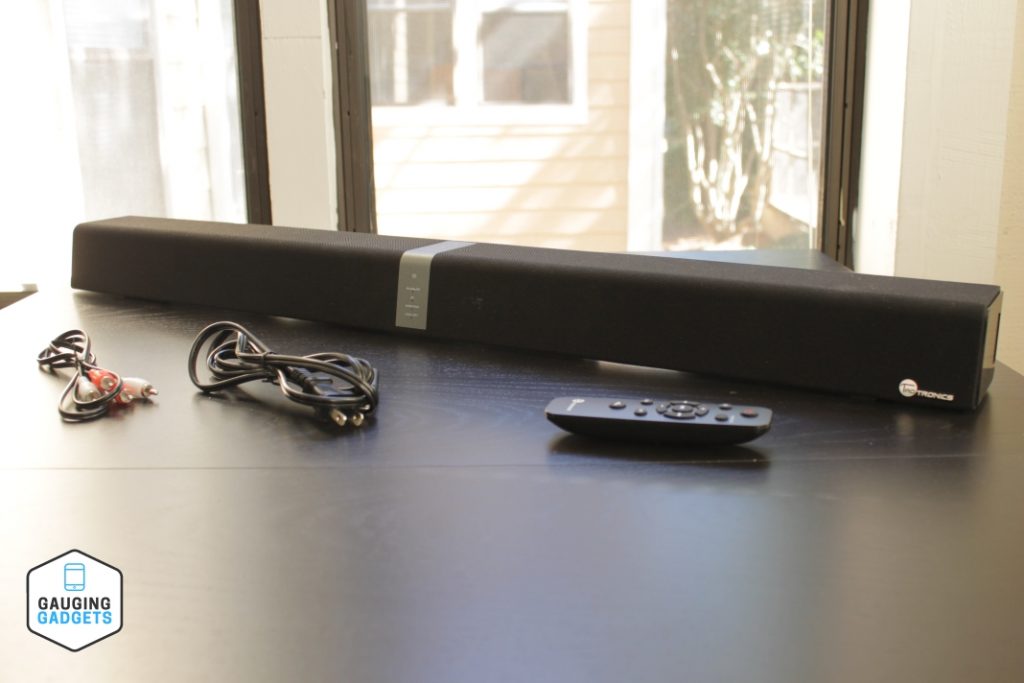 Functionality: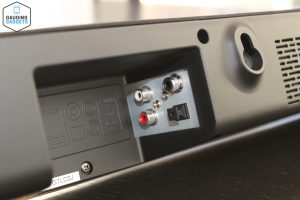 The TaoTronics TT-SK15(Paid Link) features 5 different input methods 3.5 mm Aux input, RCA, Coaxial, Optical, and Bluetooth. TaoTronics smartly placed the 3.5 mm headphone jack aux input on the right side of the sound bar. This allows for easy access when you want to plug in during a party and have multiple people play music. I connected my TV through the optical input and was very pleased with the sound and ease of setup. The Bluetooth was also very easy to setup and control. I found it very easy to setup on my Motorola Android phone.
NOTE: The Bluetooth device name is TT-SK15
Sound Quality: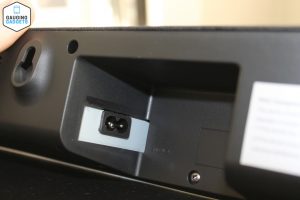 The sound quality coming out of the TT-SK15(Paid Link) is pretty good. The TaoTronics Sound Bars lacks an external sub-woofer, so while the bass is there, it is nothing to write home about. I found that the sound was much better than the built in speakers on my 42 inch Samsung TV, but not as good as my 42 inch VIZIO Sound Bar. The 4 10W speakers are powerful and the volume gets extremely loud. This speaker is perfect for sports, documentaries, or the news. The audio was loud, clear, and crisp, I just felt it was lacking the range of my VIZIO sound bar. One thing to also note about this sound bar is that it does not have any audio control like bass or treble. It also did not come with any surround sound or consistent volume features. Something to note if these features are important to you.
Overview: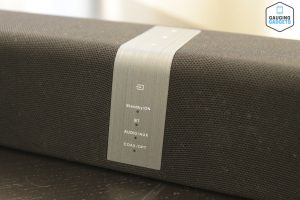 My overall impression of the TaoTronic Sound Bar is a good one. I feel this device should be priced at around $60. The 4 10W speakers pack a lot of power but lack basic controls over the audio. The remote control is a nice touch but I found I had to hold it at an angle higher than the sound bar to get it to work. The TT-SK15 looks great and would be very easy to mount. I also like having the 5 inputs of 3.5mm Aux, RCA, Coxial, Optical and Bluetooth. Click here for the current price of this device – http://amzn.to/2dE0lnA(Paid Link)