Having Wifi signal strength problems? Try the Comfast Wifi Repeater and get better Wifi signal in ~5 minutes. Currently only $19.99 on Amazon – http://amzn.to/2coLjnV(Paid Link)
Look and Build: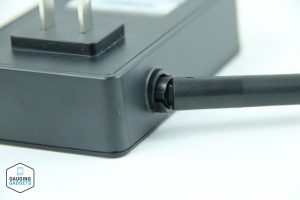 The first think you notice about the Comcast WiFi Range Extender are the two large antennas on each of its sides. I really like the look of this device, it has a really cool techie look to it and I think the glossy black looks very modern. The Comfast also has blue indicator lights on the front. These are a little dull and I wish they were brighter but they still look cool and give you an idea of the status of the device. The plug size is PERFECT. It is not too large that it blocks the entire wall socket, this means you can still plug something into the other side. The antennas are a nice touch and I believe give the Comfast Wifi Repeater a better ability to produce a strong WiFi signal.
Connection Quality and Range: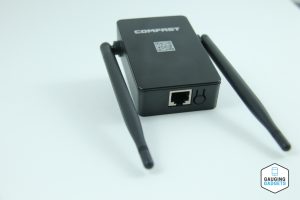 I found the connection quality of the Comfast Wifi Repeater to be great. My phone easily connected to the extended network after I configured everything with no problem. Usually when I purchase devices like this such as a travel router or wireless repeater I like to test the bandwidth before and after the device to see how much it affects the internet speeds. I found that I lost only about 50% of my bandwidth using the Comfast. I know that might sound like a lot but really that is not that much when compared to other devices such as the URANT WiFi Extender, which loses around 80% of it's bandwidth in test that I conducted.
Easy of Installation: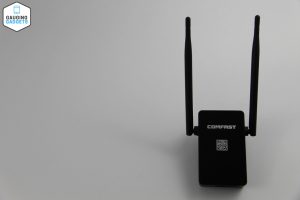 Installation for the Comcast WiFi Range Extender was EXTREMELY easy. Really only involved plugging the device in and then going to WiFi extender website (192.168.10.1) to configure everything. Took me maybe 5 minutes to have the Comfast repeater network up and running.
Setup Instructions:
Follow the step below to setup this device:
1. Plug the ComFast Wifi Extender into a power socket
2. Find and connect to the new WiFi network named COMFAST
3. Once connected either scan the bar-code on the front of the device or go to 192.168.10.1 in your web browser. This can be done on either your phone or computer. The only requirement is that you are connected to the WiFi network in step 2.
3. Login using the pass code "admin"
4. Find and select your home WiFi Network from the list.
5. Enter your home WiFi Network password, change the Repeater SSID to something unique from your home network SSID and select the apply button.
I like this device because it worked and was VERY easy to setup. I hope my setup guide can help you with any problems you have while setting up your own.
This device seems to be sold under a couple different brand names, so be aware of the list below before purchasing and find the best price:
• Oakletrea Wi-Fi Range Extender 300Mbps
• MSRM US302 300Mbps Wireless-N Range Extender
• Bluelasers Wi-Fi Range Extender
• Lookatool 300Mbps Wireless N Repeater Network Router
• SINMAX 300Mbps 802.11b/g/n Wi-Fi extender
• Urant 300Mbps USB Wifi Adapter
• SUNMY Universal N300 WiFi Range Extender
• Hotkey 300Mbps Wireless N Repeater