Looking for an affordable pair of over-head Bluetooth headphones? Check out the new Mpow Thor Bluetooth Wireless Headset! The Mpow Thor Headphones are Foldable Over-head Stereo Headphones with a Mic and detachable 3.5 mm cable are Currently $25 on amazon (Paid Link)- http://amzn.to/2c0WKoe
Amazon France: http://amzn.to/2hW6V0f(Paid Link)
Watch my video review:
Look:
The first thing you notice about the Mpow Thor Bluetooth Headphones is how cool they look. The entire device is actually plastic but it has a very unique look that makes it seem like metal. The headsets have a beautiful Mpow logo that looks metallic as well. The logo is shiny and eye catching. These headphones look extremely cool, stylish, and expensive.
Feel:
The Mpow Thor Headphones have a very good feel to them. They seem to be constructed well and feel very sturdy. The headphones are actually pretty light, which adds to the comfort level when wearing them. They have thick padding on the headband as well as the earmuffs that make it very easy to forget that you are wearing them. I found that I could comfortably where these for over an hour with no problem.
Features:
The Mpow Thor Bluetooth Headphones come with some surprising features. The coolest being that if the headphone battery dies you can still use them. Just plug in the AUX 3.5 mm headphone cable and you can get back to enjoying the Mpow Thor Headphones. This feature is truly unique and especially convenient for people who travel or plan on using these headphones a lot. It never hurts to know you have a back up. Additionally, this allows the headphones to be used with a wide range of devices that don't have Bluetooth.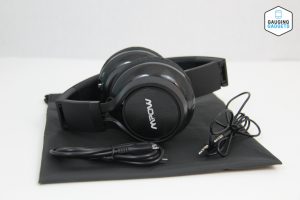 Another feature worth highlighting is the ability engage with your phone while using the Mpow Thor Headphones. You simply hit a button and you are ready to talk to Siri or Google Now. All of the communication goes through the Mpow Thor mic and the feedback to your questions or commands is played back through the headphone speakers. I found this to be awesome. I could ask questions, select other songs, or even make calls, all hands free and without even touching my phone.
Additionally with these headphones you get full control over volume, song selection, play/pause; all from one amazing designed button on the headphones. Pretty cool!
Sound Quality: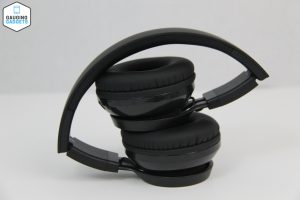 The sound quality of the Mpow Thor headphones is actually pretty surprising. I found that even on low volume the highs and lows were full and it sounded great. I truly enjoyed listening to music with these headphones. The noise cancelling seems to mostly come from the padding on the earmuffs but it still works pretty great. I found that this only increased how much i enjoyed listening to the music with the Mpow Thor headphones. Also, the volume can get extremely loud with no distortion. I found that it was almost too loud to listen to but still sounded great.
If you found this review helpful please consider using the following affiliate link to purchase the device http://amzn.to/2hW6V0f(Paid Link) Thank you for reading!