Litom 24 LED Outdoor Motion Sensor Solar Lights Wide Angle with 3 LEDs Both Side-1 Pack
Get it on Amazon ?: http://amzn.to/2sdSW96
Video Review:
Looking for a new motion sensing solar light? In this unboxing and review we look at the Litom 24 LED Motion Sensor Solar Light. This light features a wide angle design that allows the 24 very bright LEDs to cover 180 degrees. The Litom Solar Light is also extremely well built and waterproof, with an IP65 dust and waterproof rating. Meaning it is perfect for being mounted and installed outdoors.
Pros of the Litom 24 LED Motion Sensor Light:
• The LEDs are extremely bright with 526 lumens
• The Litom light is solar powered so no wires are needed for installation
• This light can be installed using one screw
• The range of the motion sensor is 26 feet, which is perfect for front door, back door, outdoor patio, deck area backyard, balcony railing, garage, driveway, path, and fence
• This light is similiar to other lights from brands such as InnoGear, URPOWER, Holan, MagicPro, Mpow, BAXIA TECHNOLOGY, MagicPro, Lemontec, Rihachan.
• There are 3 modes that the light can go into to allow it to provide different levels of lighting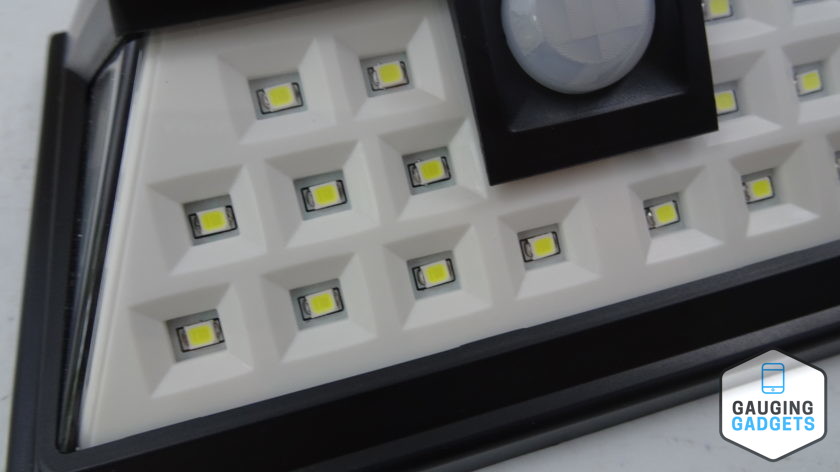 Cons of the Litom 24 LED Solar Light:
• The size of the light is slightly small. It is important to note that it is only 6 inches wide
• The sensor may not be triggered by smaller animals such as cats and dogs. This will depend on the range.
• The solar panel will charge best under direct sun light. This can be hard to find when mounting.