Looking for an awesome Mechanical Gaming Keyboard at a great price? The Mpow Mechanical Gaming Keyboard features, Anti-ghosting, Blue switches, Removable caps, and is spill proof and water-resistant. Currently ~$36 on Amazon – http://amzn.to/2bsyMiE
Mechanical keyboards have become all the rage for PC gamers. This is because it is usually easier to tell if a button has been pressed or not, potentially saving time and effort while playing. The problem with this new trend is that Mechanical keyboard usually cost a lot more. The Mpow Mechanical Gaming Keyboard comes with many of the awesome features of other gaming keyboards at a great price.
Watch my video review:
The first thing you notice when looking at the Mpow Mechanical Gaming Keyboard is that it is rather plain and lacks a 10 key area. This makes sense though because it's a gaming keyboard. Why take up the extra room and desk area with a 10 key? I believe the plain look is a tribute to the old IBM Model M. The original mechanical keyboard.
Let's talk about some of the features!
Blue Switches: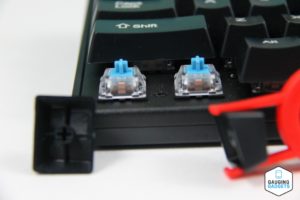 These blue switches are cherry MX blue clones. The color of the switches symbolizes the type of feedback the user will experience when using the keyboard. Blue switches provide both tactile feedback (feeling) and audio feedback (clicky sound). For a gamer, blue switches are ideal. They yield the most feedback available. This meansa gamer has to exert less effort when using the keyboard, which makes them more reactive and less fatigued. The gamer knows the keystroke has registered because of the feedback and no longer needs to exert additional force. The sound of this keyboard is perfect. Very crisp and clean. Sounds great!
Anti-Ghosting:
The Anti-Ghosting on this keyboard works great. I had no issues with N-key rollover. I was surprised by the amount of simultaneous keystrokes that could be registered by my computer. Most keyboards requires a PS/2 connector to achieve this performance while the Mpow does this with a USB connector. I am truly surprised by this great feature!
Durable:
Lets start with the feel of the keyboard. It feels well built and as if it truly will make it to the 60 million keystrokes that each switch is rated. The feel of this keyboard is AMAZING. It feels extremely well built and has a lot of weight to it. I feel like it will hold up for a long time. The keyboard is made mostly out of plastics but does have a metal plate in the middle that holds the switches. I honestly feel that this sort of design is better. It means the keyboard is more comfortable on your wrist and hands while still have the tough center. The plastic feels thick and not cheap at all. It was one of the first things I noticed and I was extremely pleased with the feel of this keyboard.
Water-resistant: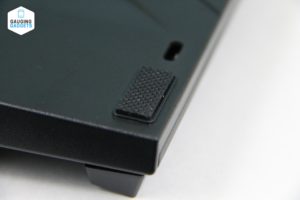 This device truly is water and spill resistant. It is not uncommon for a gamer to have a drink sitting on their desk while they play. I have definitely had that drink spill over on to my keyboard and ruin my game play because i had just destroyed my keyboard. The I500 features three drain ports on the bottom that allow any spills to easy drain out the bottom. Additionally, the switches seem to be somewhat water resistant because when I conducted my water test they kept working. I wouldn't recommend pouring water on your keyboard, I did and it was fine. This is a great feature.
Non Slip: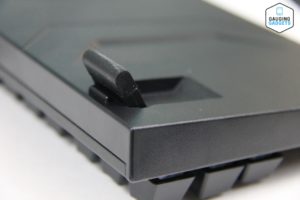 The keyboard has rubber grips on all of the 4 sides of the bottom. I found these to be well places and did a great job of keeping the keyboard in one place. The legs are almost entirely covered with rubber, so it will provide grip at any angle.
Please let me know if you have any questions about the Mpow Gaming Keyboard and please leave me any feedback in the comments. I am always looking to improve 🙂
[yasr_overall_rating size="large"]
[yasr_visitor_votes size="large"]