AOWO Sports Smart Watch Wrist Smartwatch for Men Bluetooth 4.0 5 ATM & IP67 Waterproof
Get it on Amazon ?: http://amzn.to/2f4sz0G
Video Review:
Looking for a new smartwatch? In this unboxing and review we look at the AOWO X6 Waterproof Sports Smart Watch. This smartwatch features activity tracking, bluetooth notifications, and is also waterproof up to a meter.
Pros of the AOWO X6 Smartwatch:
– Very easy to pair with phone using the Sport+ app. It takes less than 2 minutes
– Waterproof up to a meter under water with IP67 rating. I used it in the shower with no issues
– Accurate step counting
– Long battery life with 24 months of standby mode this smart watch does not need to be charged and will last over a year on the battery with daily use
– Similar to other smartwatches from brands like: U8, Martian Watches, AOKII, Sepver, Maeffort, Elftear, RabbyRock, ZAOYIMALL, Zuchini, AMENON, and YEMON
– Bluetooth notifications: The AOWO smartwatch will alert of you phone calls, text messages, and other types of app and phone notifications. This includes notifications from social media like Twitter and Facebook.
– Comfortable design: I found the stainless steel band to be flexible and comfortable. The watch weighs more than my Garmin Forerunner 230 but not to much to cause discomfort
– Great price at only $29 and the other watch designs from AOWO are even less expensive.
– Watch displays Time, Steps, Calories, Distance, and Alarm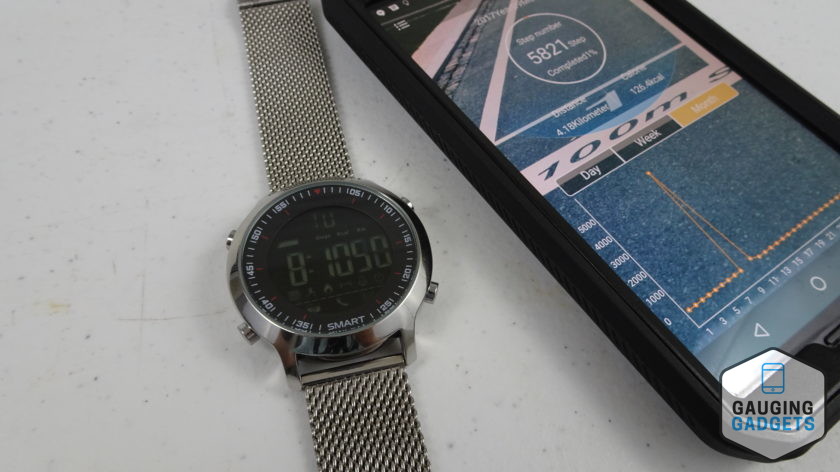 Cons of the AOWO Waterproof Smartwatch:
– I was unable to get the camera feature to work. Though I am not sure how important this feature is.
– Pressing the buttons underwater might allow water into the watch
– Display can be hard to read in daylight. I found it hard to distinguish which number was being displayed.
Overall I found the AOWO X6 Smartwatch to be awesome and worth the price of $29.99. The activity tracking and bluetooth notifications work great and the watch was very easy to setup and connect to your phone.
Where to download the Sports+ app:
Apple App Store: https://itunes.apple.com/us/app/sports/id1247066112?mt=8
Google Play Store: https://play.google.com/store/apps/details?id=com.forler.j_style&hl=en