Looking for a new pair of neckband headphones? In this unboxing and review we look at the Mpow Jaws Neckband Bluetooth Headphones. The Mpow Jaws headphones feature 13 hours of talk / listen time, an awesome design perfect for wearing all day, and the ability to mute calls directly from the neckband.
Video Review:
Mpow Jaws V4.1 Bluetooth Headphones Wireless Neckband Headset Stereo Noise Cancelling Earbuds w/ Mic
Get it on Amazon 👍: http://amzn.to/2zEU8Cv


Pros of the Mpow Jaws Headphones:
• Very good build quality, the plastic is sturdy and not cheap
• Great controls: The Mpow Jaws have seperate buttons for volume, track,power, and a multifuntional button. More buttons makes the headphones easier to use.
• Great audio quality: Music of all genres sounds great with the Jaws. They have strong bass and very clear highs. Podcast also are very clear.
• Earbuds are magnetically attached to the neckband
• 13 hours of usage time with over 350 hours of standby time
• Similar to other neckband headsets from brands like SoundPEATS,Mamamiya, BestOnly, SMARTOMI, Rymemo, Titita, Dylan, and Anker
• The earbuds are very comfortable in the ear
• The ability to mute and unmute calls from the controls on the neckband
• Really nice case for the headphones included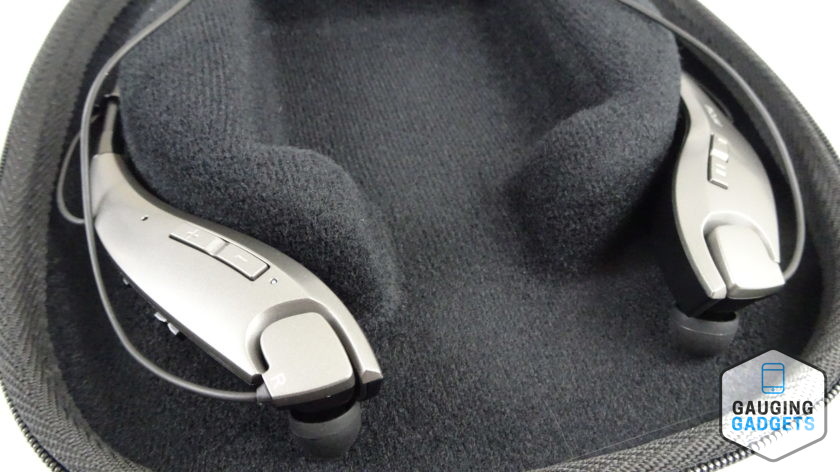 Cons of the Mpow Jaws Headphones:
• The microphone can be easily blocked, this can make it hard to hear your voice
• The clips for wire management do not work very well. This leaves the wires loose and can get catch.
I have to say that these are really great headphones. The Mpow Jaws are a great price, are very comfortable, have great audio quality, and are perfect for people who make a lot of calls