Own a bunch of camera gear like a DSLR, Lenses, Camera Flash, Camcorder, Memory Card, Lens Filters? If so the Lowepro Adventura 170 will protect your camera and accessories while your on the go. This shoulder bag fits tons of gear for less than $30 on Amazon – http://amzn.to/2bIJ7qt
Camera gear is kind of a strange. It is super expensive and delicate but the only way to truly use it is to bring it with you to some not so delicate places. That is why a good camera bag is important. The Lowepro Adventura 170 does a great job of looking great, packing tons of camera equipment and protecting everything.
CHECK OUT MY VIDEO REVIEW: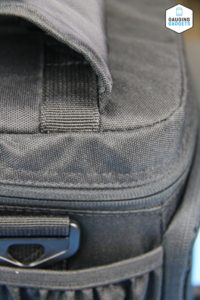 The outside of the Lowepro Adventura 170 is made of a seemingly waterproof and very tough material. This material is thick and stiff, while still being light. It feels as though it is strong enough to protect your gear from a short fall. The weight of this bag is very reasonable and I would not be concerned about that at all. Additionally, the rain flap is a nice touch that adds another layer of protection from rain or snow. The rain flap clips on the front of the bag and when unclipped can be pulled back to reveal the two main pockets.
The Lowepro Adventura 170 features two pockets and two side elastic pouches. The elastic pouches are on the sides of the bag and can hold objects of various size. They are similar to the pouches on the sides of a backpack that are perfect for water bottles or other weird shaped objects. I am really glad they included these pouches because it gives you a place to store food, water, or other personal object that is separate from your camera equipment. This means you don't have to worry about your water bottle sweating on to your camera equipment.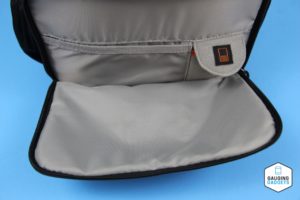 The front pocket unzips to unveil a dedicated memory card pocket and small pouch for loose equipment. The front pocket is for all of your small accessories or maybe a wallet. I found this  small pouch perfect for small cables, lens caps, or even lens filters. The dedicated memory pocket is a very nice touch. I love that I have a pocket made to keep my memory cards safe and in one place. The size of the memory card pocket is perfect and could easily fit at least three SD cards with no issue. The front pocket is also a lot larger than it seems and you can really squeeze a lot into it.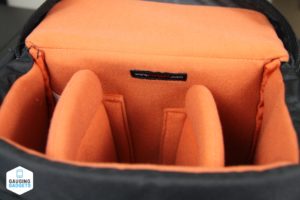 The main camera pocket is AWESOME. The first thing you notice is the soft orange material that lines the inside of the compartment. This material is super soft and delicate enough not to scratch or damage your camera equipment in anyway. The pocket is very large and utilizes two removable dividers. These dividers are attached to the pocket with Velcro, so they can be removed or moved within the compartment to allow you to customize this pocket for your needs. This means you can fit a wide range of camera or camcorders of various sizes.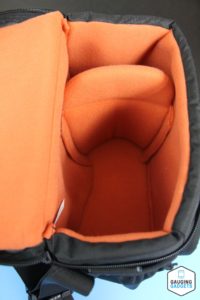 This bag is a somewhat older version of the Adventura bag line but is similar to the following bags at a lower price. Even with the new version out, the Adventura 170 is still on sale because of it's high demand and customer satisfaction.
• Adventura SH 140
• Adventura SH 160
While I tested this bag with my Canon Rebal T3 Lowepro says the will fit the following models:
• Canon EOS 5D/5Ds/5D Mk II/7D
• Canon EOS 70D
• Canon EOS Rebel T5
• Nikon D3200
The Lowepro Adventura 170 is an awesome camera bag and I highly recommend it!
If you found this review helpful please consider using the following affiliate link to purchase the device http://amzn.to/2bIJ7qt. Thank you for reading!
[yasr_overall_rating size="large"]
[yasr_visitor_votes size="large"]