Looking for a Wireless Speaker for around the house, the pool, or just about anywhere? The XLeader SoundAir Wireless Bluetooth Speaker allows music to be played via Bluetooth, USB flash drive, Micro SD card, Aux input and FM Radio. Currently ~$35 on Amazon (Paid Link)- http://amzn.to/2cpypqy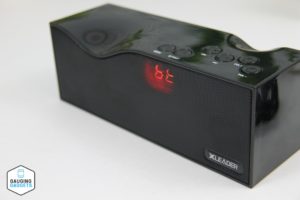 The first thing you notice when taking the SoundAir out of the box is that it has a really good weight and looks AWESOME. The design is so cool looking… It is shiny and has some really nice curves to it. The feel is solid and the weight gives you confidence in the build. The plastic is not the most expense feeling and might be somewhat brittle if dropped. I was really impressed with the look of the XLeader SoundAir B1. I thought the red LED screen on the front was a nice touch. It was great for find specific FM radio frequency. Most wireless Bluetooth speakers do not offer anything like this.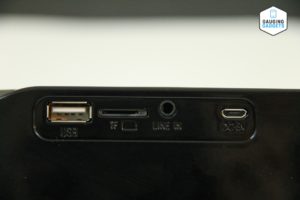 The speaker has tons of options for playing media. The most evident is via Bluetooth, but it also can play media via Micro SD card, FM Radio, Aux input, and USB flash drive. So you have a lot of options and all of these work great. The speaker sounds great and it gets VERY loud! I actually felt a little bit bad for my apartment neighbors when i was testing the volume.
Pairing the Bluetooth connection was very simple and fast. This also includes the ability to answer phone calls. The calls were clear and the person calling could clearly here me speak. Additionally, the Micro SD card, Aux input, and USB flash drive features worked extremely well and were very simple. With the Micro SD card and USB Flash drive you simply attached them to the speaker and the music automatically starts playing.
The FM radio on this wireless speaker is awesome! The device will automatically scan the available FM radio stations in your area and program them. Once this has been done you can easily hit the next track button to go through the different saved radio stations in the device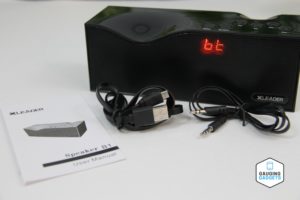 . Even though I am not a big FM radio listener, I found this feature to be something I really liked. I like the option to listen to local music.
The battery life of the 2000mAh lithium battery seems to work as advertised. I have used it for several hours with no issues. I really like that the charging is through a micro USB. This makes it really convent to charge and doesn't require any additional charging cables.
This device seems to also be sold under the name Captain Bluetooth Speakers Portable.
After using the XLeader SoundAir Bluetooth Speaker, I would recommend it to anyone I know who is looking for a Bluetooth speaker in this price range.
If you found this review helpful please consider using the following affiliate link to purchase the device http://amzn.to/2cpypqy(Paid Link) Thank you for reading!