Looking for a waterproof speaker that is perfect for the shower? Check out the Mpow Buckler Wireless Waterproof Shower Speaker Bluetooth with Built-in Speakerphone for Shower or Outdoor Activities. Currently ~$19 on Amazon: http://amzn.to/2ft5TGT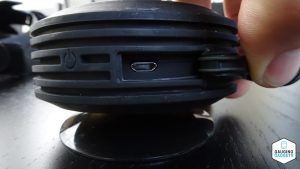 The first thing that is noteworthy about the Mpow Buckler Bluetooth Speaker is that it has a suction cup on one side that is meant to be attached to surfaces such as your shower wall. Surprisingly, the suction cup works great. It size is the same as the speaker which means once attached to the shower wall it is very secure. The speaker can even be rotated while attached to the wall to allow for easy access to the 4 different buttons located on the ring of the speaker. This is extremely convenient and I am actually shocked at how great this speaker works as a shower speaker. The 4 buttons on the bluetooth speaker control volume, track, pause/play, and power. They are textured buttons that covered by rubber, which has a very good feeling to it.
The build quality of the Mpow Buckler exceeds my expectations. The front grille of the speaker is made out of the sturdy feeling metal that has a very cool looking MPOW logo. The rest of the speaker is cover with a layer of rubber that makes it easy to hold in a wet environment and also makes the speaker more durable. One VERY important thing to note is that the speaker is not rated as waterproof. The rating of IP65 means that the Mpow Buckler can withstand a spray of water from a water jet.
The IP rating is made up of two ratings the first digit, for solid particle protection and the second digit for liquid ingress protection.
IP65 Rating Breakdown:
6 – Dust tight: No ingress of dust; complete protection against contact (dust tight).
5 – Water jets: Water projected by a nozzle (6.3 mm) against enclosure from any direction shall have no harmful effects.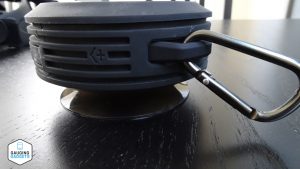 The sound quality of the Mpow Buckler Speaker is pretty good. I wouldn't say it is anything I would want to show off, but it works great and sounds good enough for use in the shower. One thing I noticed about the sound is that the speaker actually sounds better when it is suctioned to the wall.
The battery charges through micro USB which is located behind a rubber flap that helps seal the micro usb port from water. The Mpow Buckler features 8 hours of play time, which in my opinion is great for a speaker of this size and price.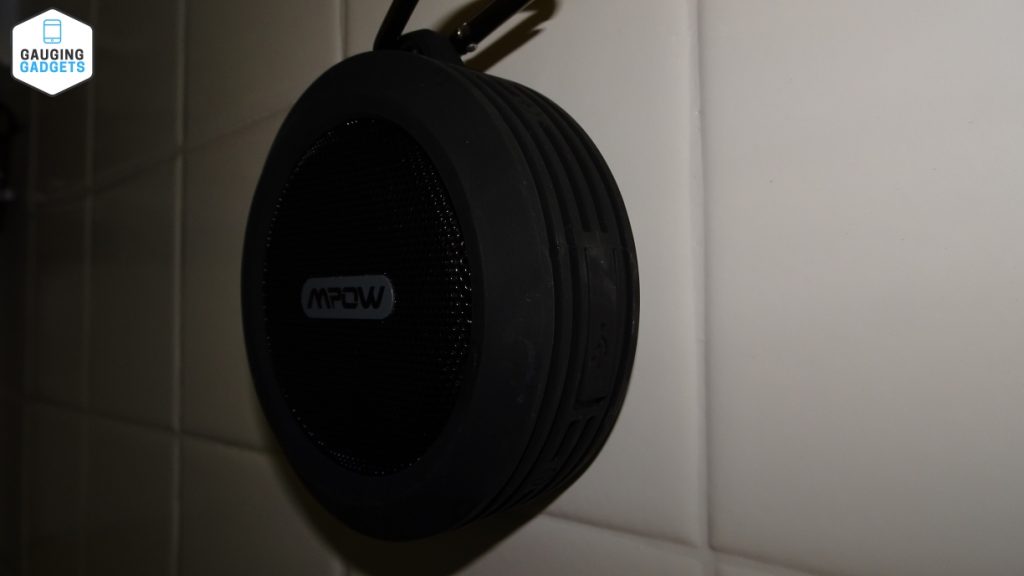 As with many of the Mpow devices I own, I really love the Mpow Buckler Shower Speaker. The suchion cup is awesome and the speaker works great in my shower. I find that the power and quality of the sound is perfect for my shower. I can clearly hear music and podcast with no problem. At a price of less than $20 I highly recommend the Buckler! http://amzn.to/2ft5TGT
[yasr_overall_rating size="large"][yasr_visitor_votes size="large"]