As someone who lives close to work, sometimes I like to ride my bike rather than drive in traffic. The only problem I have is that at night I am nearly invisible. So it can be dangerous for me if I have to stay late. This is why I decided to get the GYY Rechargable Bike Light. Product Link AMAZON: http://amzn.to/2ih6rjA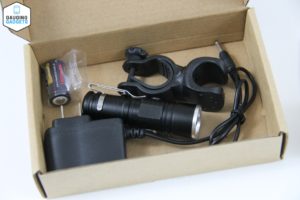 The first thing you notice when opening the bike light box is the size of the light. It is the perfect size to be attache to the handlebars of a bike and not get in the way. I found that it was very easy to install and only required me to loosen and tighten one bolt. It has a rubber strip that sits in the mount to ensure the light is secure and stays where it was intended to. It can be a little hard to get the light in the mount and I found that it can almost loosen the mount from the bike. Though, once you get it in the mount, the bike light is extremely secure and not going to fall out.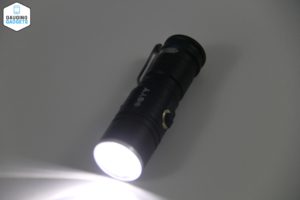 One of the added benefits of this bike light is that it doubles as a flash light. Rather than mounting a permanent light to your bike the GYY Front Bike Light can be removed and used as a flash light. It even has a "pen click" that will allow you to click it to your pocket or belt. This is an awesome feature. So basically I wanted a bike light but I also got a small, extremely bright, and rechargeable flashlight I can bring camping or anywhere else. I am really happy with this feature.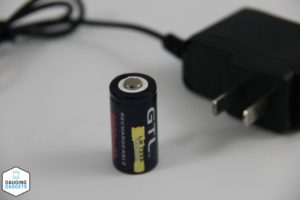 The light itself is very bright. Like almost blinding if you look directly at it. I think it does a great job of not only lighting the way while biking but warning drivers that I am on the road. There are two main features to note about the light itself. the first being that there are three light settings, full power, low power, and strobe. The low power is still very bright but better for items up close. The stroke is awesome and great for day riding. The second feature of the bike light is that is has a sliding lens that allows you to control the size of the beam. You can really focus it and make it small or make it very wide. I like having this control.
The charger is not a standard Mini USB, which was somewhat disappointing but the fact that it came with two batteries helped me overlook this. These batteries last very long. I have been using the first one I tried for probably a couple hours now, and it's still going strong. The charger has an LED that lets you know when it has finished charging. I like this and found it to be helpful.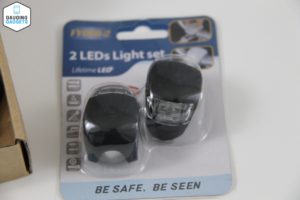 Also included in the package with the bike light are two mini LED lights that you can EASILY attach to your bike. I was really surprised when I saw these. They are awesome and I like them just as much as the bike light. They have three settings as well but this time it is On, Fast blink, and Slow blink. Including these in the pack made these a better value for sure.
I was given the GYY bike light for my sincere review. Overall I really like the GYY bike light. I do feel it is slightly too expensive but with the included mini lights that makes it about right. Thank you for reading!
[yasr_overall_rating size="large"][yasr_visitor_votes size="large"]